Omar Transforms-A Holiday Miracle Story
by Christopher (Rigdzen) Zeoli, Director
Perhaps you remember Omar from our "Meet the Flock" page. He was the troubled little Lesser Sulfur Crested Cockatoo that had experienced violence at the hands of his owner's alcoholic father. As a result, he would exhibit symptoms of acute post-traumatic stress disorder. For as long as we at Garuda Aviary have known him, Omar would hide in the back of his cage, trembling and afraid.
Barely coping 
As time went on, we learned how to help Omar manage, despite his nearly crippling anxiety. Unfortunately, sometimes anxiety disorders get worse. Omar had never been a feather plucker. But early this spring, Omar began chewing the feathers on his chest. By itself, that is worrisome enough. But this problem took a frightening turn. Omar began to chew a hole in the skin on his chest. His anxiety disorder was quickly becoming potentially dangerous. Sadly, I had to fit him with an E-collar. The collar would keep Omar from mutilating the skin on his chest. But they're cumbersome and often uncomfortable. In my experience with parrots, I've found that once a Cockatoo's anxiety disorder gets that bad, they typically spend the rest of their lives wearing an E-collar.
Bad to worse 
In the months to come, we would try to help Omar cope with his growing ordeal. Much to our collective dismay, it would continue to progress. He would destroy his collars, intent on mutilating his chest. After I replaced his fourth collar with his fifth collar, his disorder reached a grim new level. In an E-collar, Omar couldn't reach his chest. But he could reach the tops of his wings. So he suddenly began to chew them bloody. My heart sank. When a self-mutilation problem like Omar's expands to other parts of the body, it's often only a matter of time before the bird does mortal damage to itself.
Desperately
I decided to throw every Holistic therapy for anxiety at Omar that I could think of. At this point, I was willing to give him enough Valerian root extract to make him drowsy, just as long as it stopped him from tearing himself apart. In staggered intervals, I began dosing Omar's water with a few Holistic remedies. One was Valerian root extract. Another was Bach's Rescue Remedy. But the most impactful was a homeopathic therapy containing four remedies useful for treating nervous tension, anxiety and irritable sleeplessness. This product had a profound effect on Omar's acute anxiety. Within a week, he had stopped plucking feathers. In another week's time, it was clear he wasn't mutilating the tops of his wings or trying to mutilate his chest. He seemed to be doing so well that I decided to remove his E-collar. He was so relieved! When you remove an E-collar from a parrot, the first thing the parrot is going to do is preen all the feathers it couldn't reach while wearing the collar. And you must allow the parrot to do so. Otherwise, the areas of un-preened plumage will just drive the poor thing crazy. So you then watch with great apprehension, praying the parrot only preens without plucking feathers or mutilating skin.
Eureka! 
In this case, much to my great delight, Omar was only preening. He wasn't exhibiting the dire pathological behavior. I was amazed. Avian experts generally agree that once a parrot begins to pluck its feathers or mutilate its skin, it is unlikely to stop. My experiences have led me to the same conclusion. So, it seemed these remedies had done the impossible; stopped a ferocious self-mutilator from destroying itself.
But the surprises kept coming… 
Not only was Omar suddenly being kind to his plumage and skin, he seemed to be going through a remarkable transformation. Instead of timidly hiding in the back of his cage, he was coming up to the front. Instead of afraid, he was curious, as Cockatoo's naturally are. He was even beginning to engage socially with humans. Nearly all of our volunteers have commented on how delightfully different Omar is now.
What did it?
The homeopathic remedy compilation consists of:
Avena sativa 2x
Coffea cruda 12x
Passiflora incarnata 2x
Zincum valerianicum 4x
I explained the situation to my homeopathic doctor. He believes Coffea cruda 12x and Zincum valerianicum 4x are the remedies responsible for this stunning change.
Could this be a cure? 
With renewed enthusiasm, I am trying these remedies on other parrots with acute anxiety disorders. Another member of our flock you might remember is Tala, a Moluccan Cockatoo. For years, she has worn an E-collar that prevents her from chewing a hole in her chest. I have tried again and again to wean her out of the collar. But as of yet, she continues to return to the pathological behavior. My homeopathic doctor advised me to be patient regarding Tala's anxiety disorder. She has spent far longer in an E-collar than Omar has. Her neurosis has had a lot more time to set in. So I am patient, but no less enthusiastic. It is my hope to single out homeopathic remedies that can effectively treat the anxiety disorders of most parrots.
Stay tuned for new developments, my friends! 
Please note that while Christopher (Rigdzen) Zeoli has nearly 20 years of experience handling and caring for parrots, he is not a certified veterinarian. Nor is he a Homeopathic physician. Also, these holistic remedies have not been evaluated by the FDA for the treatment or cure of disease. If you have a veterinary emergency, please contact a certified veterinarian immediately.
Amigo's Update
Two months ago, Amigo, our Pionus Parrot was losing weight and not behaving normally. After a visit to the local vet, a recovery plan was put in place, including a special feeding formula with oversight and constant care from our Director, Christopher. The result is that Amigo is now doing much better and she has regained some of her energy and zest for life. We send a big "shout-out" to our generous contributors and well-wishers – thank you for your wonderful support of Amigo!
However, Christopher reports that while Amigo is doing much better, she still is not quite out- of-the woods. She still isn't eating enough on her own and requires supplemental formula feedings. As a result, she has an appointment with one of Maryland's top specialists, and we are hopeful that the root of her problem will be discovered and she will return to complete good health, all bright-eyed and bushy-tailed real soon. For updates on Amigo please visit our website at www.garudaaviary.org
Update on Fur Friends Portrait Challenge
Fur Friends Portrait Fundraiser Goal was exceeded: 
Over $1,000.00 raised for the Parrots! 
During the month of September, Elizabeth Elgin, an amazing artist and an avid supporter of the Garuda Aviary, initiated a wonderful effort to raise money and awareness for the Garuda Aviary. For a $30.00 donation to the Garuda Aviary, Elizabeth offered customized portraits of your pet (or a friend or loved-ones pet), valued at $75.00. The challenge was to raise $1000.00 in one month.
The awesome news is that she exceeded her goal of raising $1000.00 and we had over 30 donors, who will receive beautiful pet portraits for their wonderful contributions to the Garuda Aviary.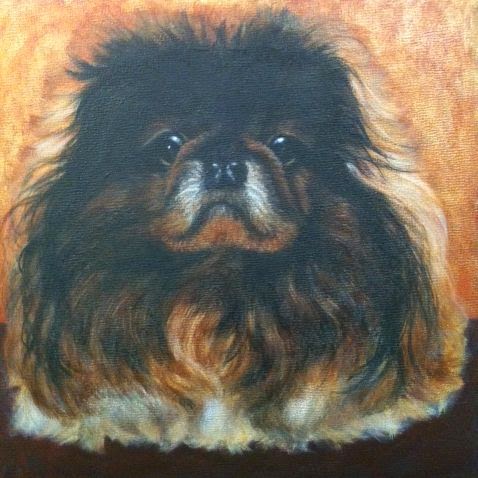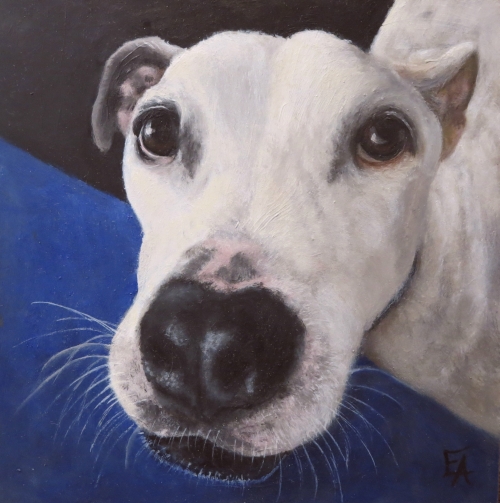 Here is one happy customer's comment: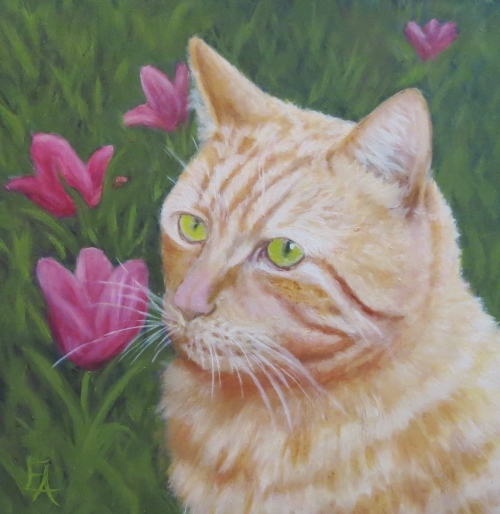 "Your portrait of Jackson took my breath away this morning when I first saw it. Not only is it a wonderful likeness but you have captured something very powerful about his inner self, very hard to put into words but very recognizable and truthful. I'm so delighted with it and feel blessed to have discovered your work." 
For your viewing pleasure, we have included three of Elizabeth's gorgeous Pet Portraits of Jackson, Jada and Sprout in this issue of Flock Talk.
Elizabeth continues to paint and will generously donate 50% of her proceeds to the Garuda Aviary. If you would like to support the Garuda Aviary and get a lovely pet portrait, you can visit Elizabeth's Website TODAY and commission a painting at
The Garuda Aviary sends a HUGE Thank You to Elizabeth Elgin, for her talent and generosity, and to ALL of the kind contributors who commissioned a painting and helped support the Garuda Aviary. Thank you on behalf of our Parrots!
Portraits by Elizabeth Elgin above are of the dogs "Jada" (L) and "Sprout" (R) and the cat "Jackson".
Happy Holidays from all of us at Garuda Aviary
As this Holiday Season approaches, we want to extend a heartfelt THANK YOU to all of our generous contributors and supporters. We hope you enjoy a happy, warm a safe Holiday Season.
Thanks to your generous support, we can continue to provide lifelong sanctuary to our Flock of previously abused, abandoned and neglected companion Parrots. As you know, here at Garuda, we do not adopt-out; all of our birds have found a warm and caring forever home at our sanctuary and never have to worry about being re-homed again.
Your support has directly enabled us to provide the wonderful care that Omar, Amigo and the entire Flock receive here at Garuda.
For other stories as well as updates on Omar and Amigo please visit our website at www.garudaaviary.org
If you would you like to help Amigo, Omar and the rest of the Flock at Garuda continue to receive our top-notch attention and year round excellent care, please make an end-of-year monetary contribution TODAY to the Garuda Aviary.
We rely solely on YOUR support to provide all the services, care and attention that our birds receive. Your support makes a huge impact in the lives of our Parrots, and we send you our deepest thanks for making this a very Happy Holiday season for our entire Flock.
Thank you and Happy Holidays!
To donate now, please click on donate button, or visit our website at http://www.garudaaviary.org
Garuda Aviary
18400 River rd. Poolesville, MD. 20837
E-mail: GarudaAviary@earthlink.net